Fashion Production — Resource Day Trip: NYC EDITION
$

147.50 -

$

295.00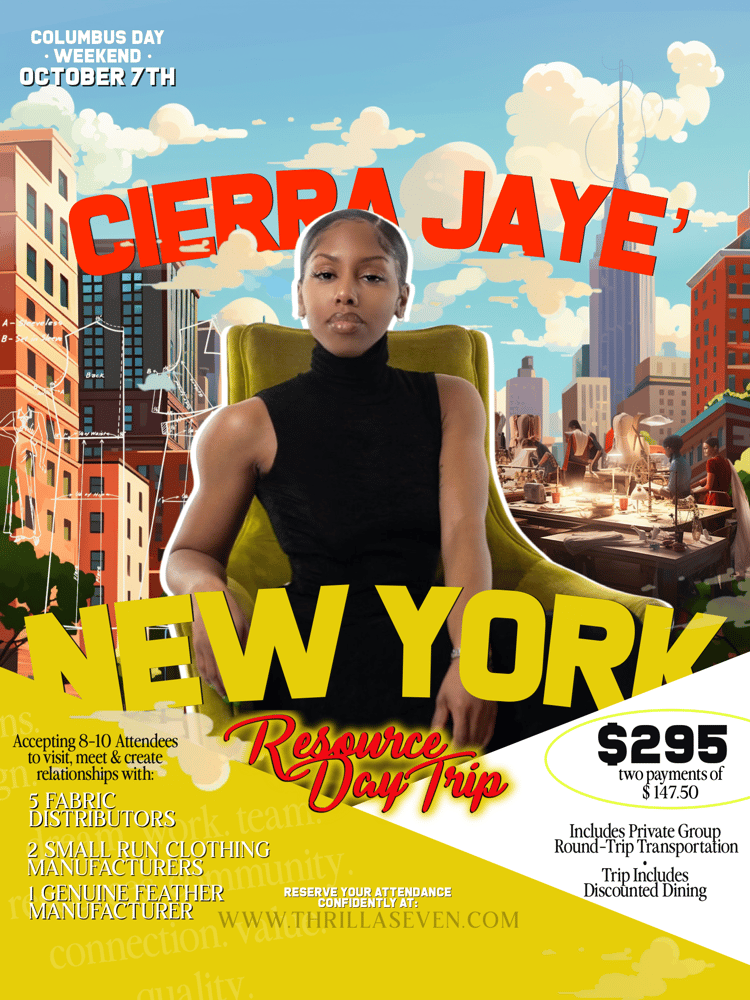 Oftentimes, a push in the right direction on your new or existing journey is a desire many have but don't receive. This trip is for the passionate creative Entrepreneur who is emerging, aspiring, has the vision but may be in need of resources, or simply just wants to grow their index of valuable, reliable and quality resources. This day-trip is for you.
EXPLORE THROUGH SOME OF 'THRILLA SEVEN's MOST TRUSTED RESOURCES IN NEW YORK.
THIS EXPERIENCE WILL INCLUDE VISITING:
- (5) APPAREL/SUITING FABRIC DISTRIBUTORS
- (2) SMALL MOQ CLOTHING MANUFACTURERS
- (1) SILK FABRIC PRODUCTION MANUFACTURER
- (1) CUSTOM BEADED LACE/FABRIC
MANUFACTURER
THE TRIP AND YOUR RESERVATION ALSO INCLUDE:
- PRIVATE GROUP TRANSPORTATION, ROUND TRIP
- A SEGMENT FOR DINING IN: BROOKLYN, 'LITTLE ITALY' or SOHO NYC
TRIP INFO:
WE WILL MEET AT — CHERRY HILL MALL, SATURDAY OCTOBER 7th at 7:30AM EST
DEPARTURE WILL COMMENCE PROMPTLY AT 8AM.
ALL BALANCES FOR PARTIAL PAYMENTS MADE PRIOR TO SEPTEMBER 1st, ARE DUE BY SEPTEMBER 9th, 2023.